My Desert 100 Experiences
---
Day 1:
Step 1, put all this crap into the empty truck: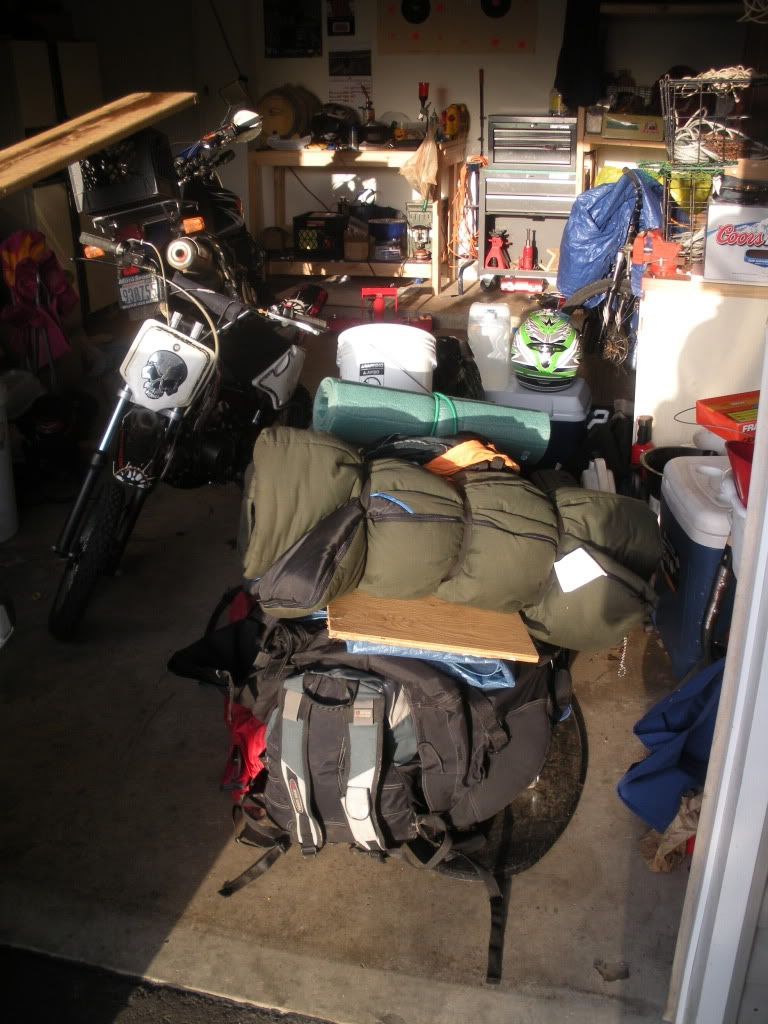 step 2, fuel: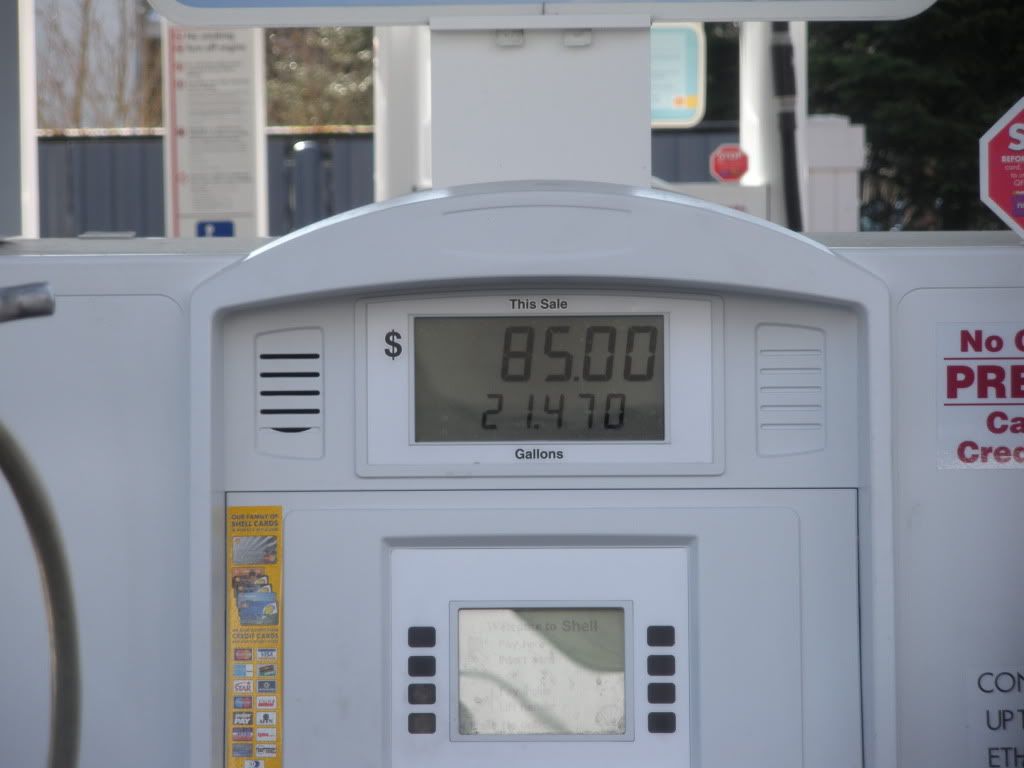 step 3, miles!
the closer I got to Odessa, the more and more I saw RV's with trailers and trucks with bikes.
looks like we got us a convoy!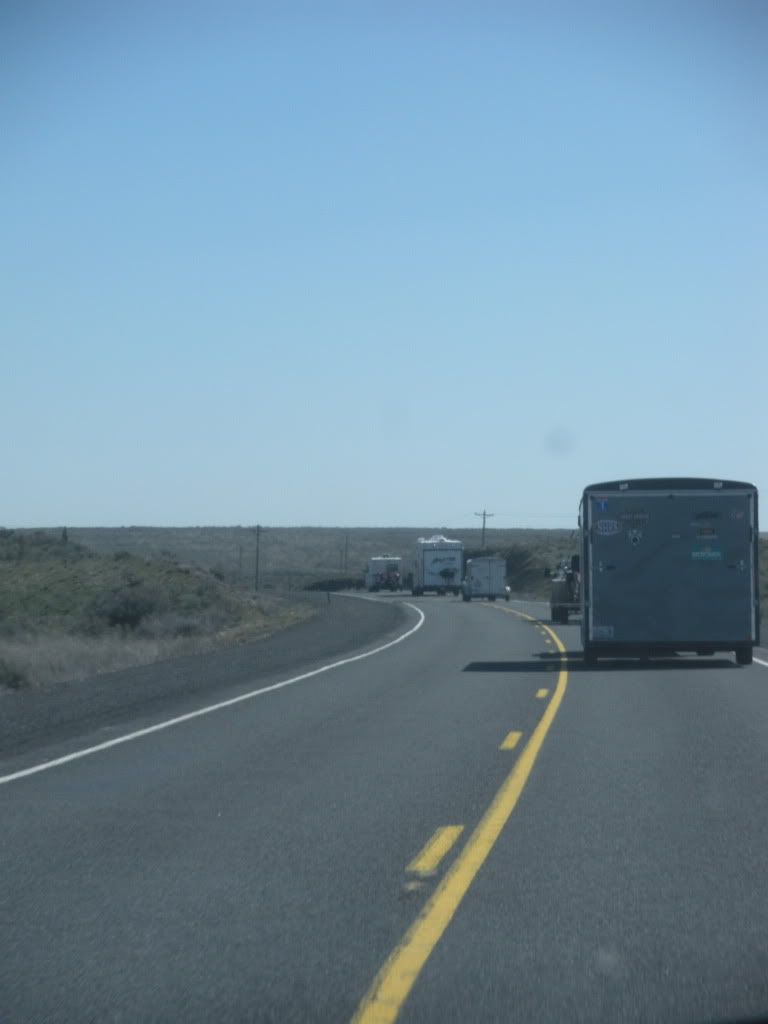 this bus was full of bikes and dudes
well, here we are in the RV city in the Desert 100 site. I finally made it. dirt bikes of all shapes and sizes are running EVERYWHERE. the place is a dust bowl. burnt gas and oil filled the air. You want peace and quiet? HA. This is Odessa, baby!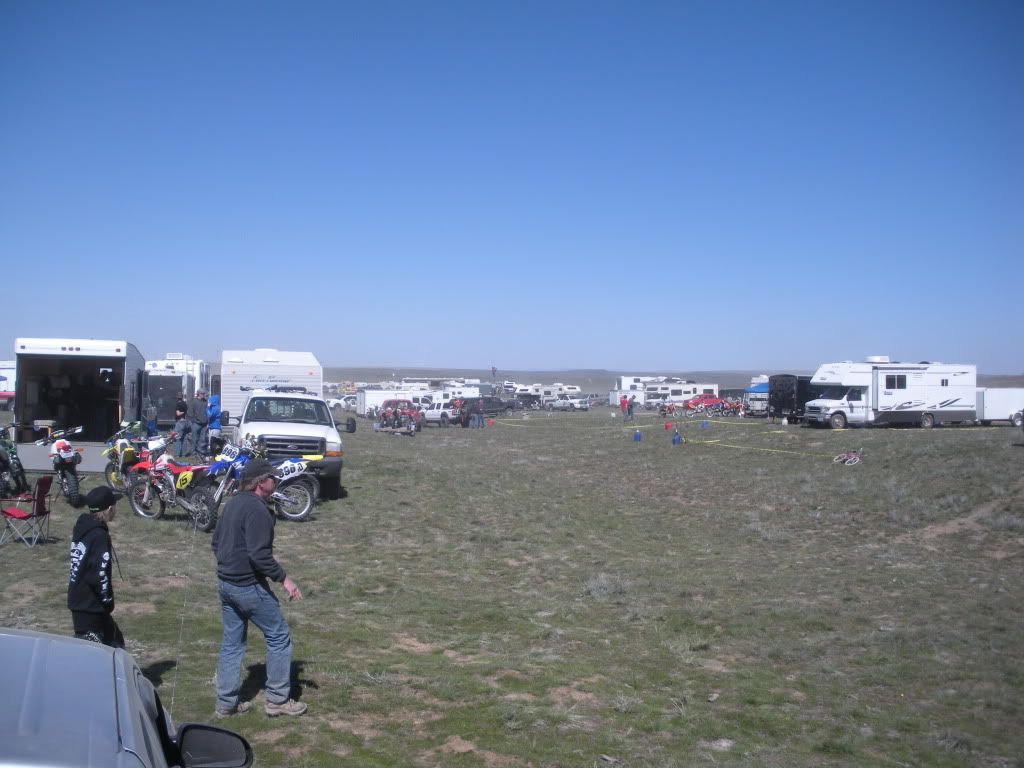 I declare camp made!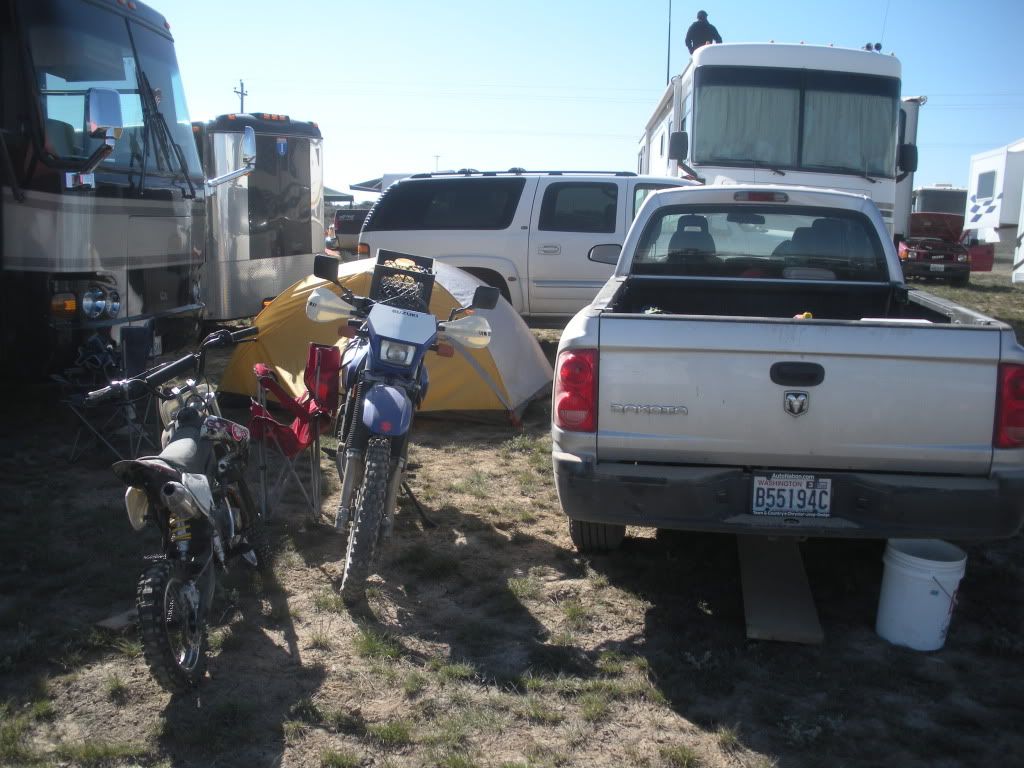 lots of camps had flags. Since I was camping near some people I really didn't know, I was at their mercy for flag choice...luckily, they are of like mind! motos and booze!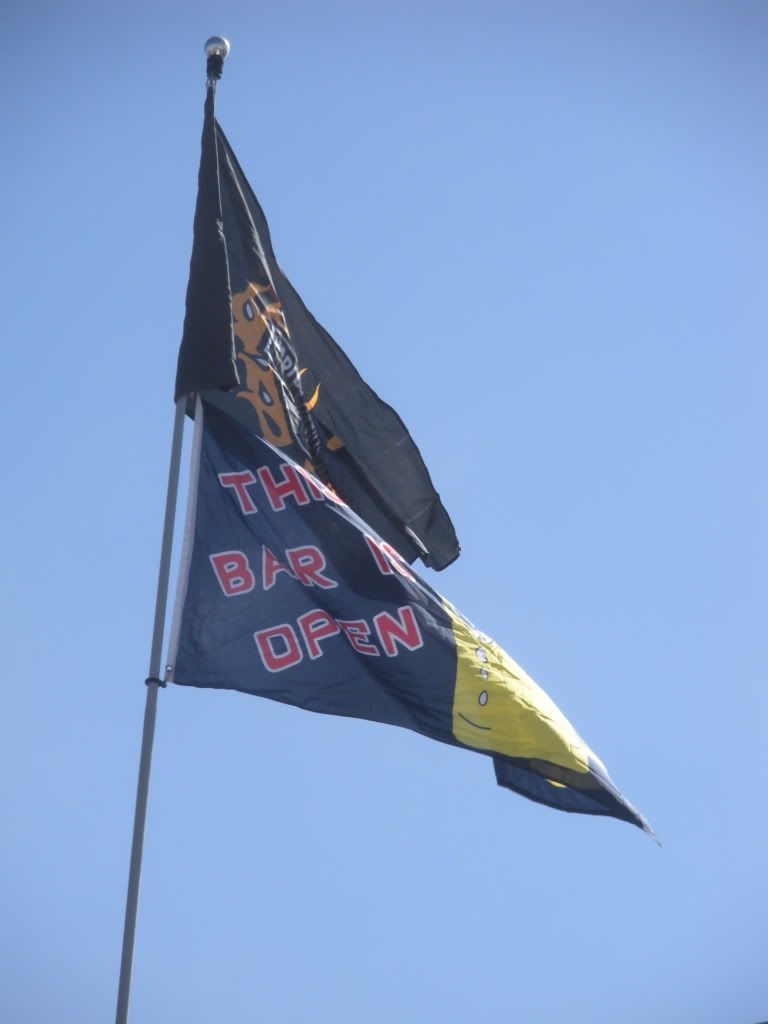 So, sign up...what to sign up for? The dual sport might be too easy. The family loop is for kids. The iron man might be too hard. But, luckily, I had some peer pressure to help me find out that the iron man is for men, and the dual sport is for pussies. Plus the iron man shirts are cooler...so I hear...
I signed up for the iron man.
I took a quick loop around the practice loop and was feeling pretty good. We found some whoops, some roly poly rocks, some death boulders, and a good incline. I did fine, but wanted another crack at it. The second time I took a more challenging line up the incline...fail. Thanks to Suzuki for torque and Dunlop for traction. Once I got started, I just said eff it and went for it. Up and over and away.
Once I got back to camp, I thought I knew what I was in for. I was going to be tired, but ok with 2 40 mile loops.
day 2:
Sunrise on Saturday in Odessa is punctuated by the ring-a-ding-ding of a 2 strokes, the rattle of generators, and a radio announcement.
I got up just before 7 and headed for the outhouse row...line already...moved quickly.
Back for coffee, bacon and eggs. Got them cooked on the tailgate, then got an invite to eat breakfast with the guys in their RV and bench race before our trip.
Ok, gear up, it's game time!
I followed the guys to the first checkpoint and got my first punch 8 and a half miles later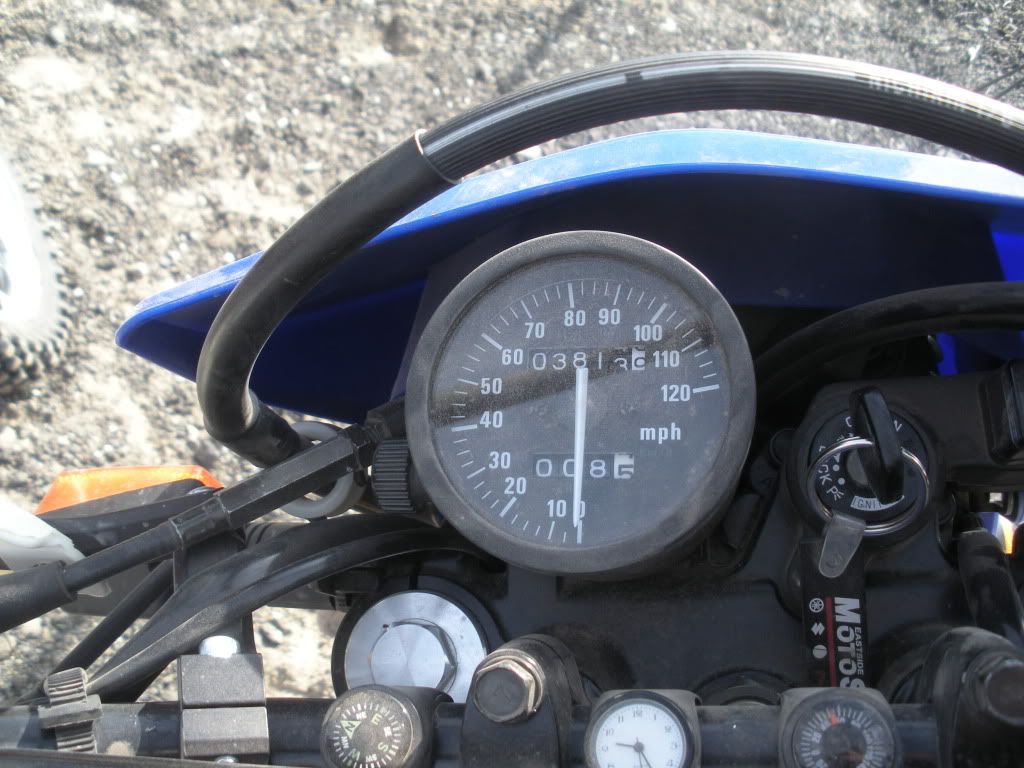 here we are stopped, waiting on me to stop taking pics
finished the first loop, only dumped it 3 times, lol!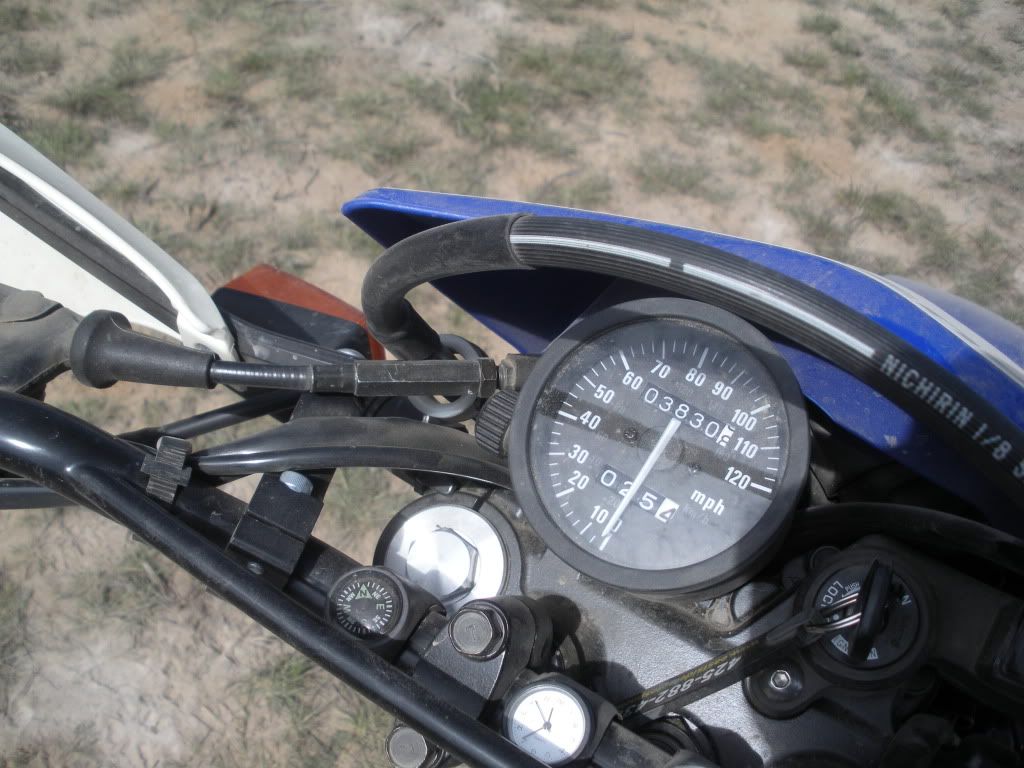 25 miles...not 35-40, but honestly, that was ok!
here's my 3 wrecks in a nutshell
1) side hill to avoid whoops -- whoops, I hit the side of the hill
2) silt. srsly. lots and lots and lots of silt.
3) hmm...it blurs...maybe I'll remember
There were a few places that sketched me out, but the biggest was the BIG downhill section. STEEP. I had to walk the bike down, engine off, in gear. This method gave me 2 hand brakes (just remember, letting go of one lets the front go, while pulling the other in lets the rear go!), and thus 2 feet to duck walk down the hill.
Lots and lots of whoops. Lots of rocks. A few side trails that were just smooth. Lots of little kids kicking my butt. It was a total blast.
Lunch time. Sandwich, water, water, water, more water.
back out for lap 2.
I started it. I did 5 miles, which, coincidentally is the distance to the road crossing. I wrecked a bunch of times, dropped the bike picking it up, killed it on inclines. I was over tired from the first lap, then over confident from previous success.
I had 2 hard falls. One was a rock to the ribs, and one a rock to the head.
I was done.
My group was waiting for me and I told them I was gonna head back to camp.
So, I pulled in to see if I could get my last punch and my tshirt, but couldn't find the end of the line...I'm hot, tired, and need to get out of this gear.
Up to camp for a water, beer, and clothes.
I was DURTY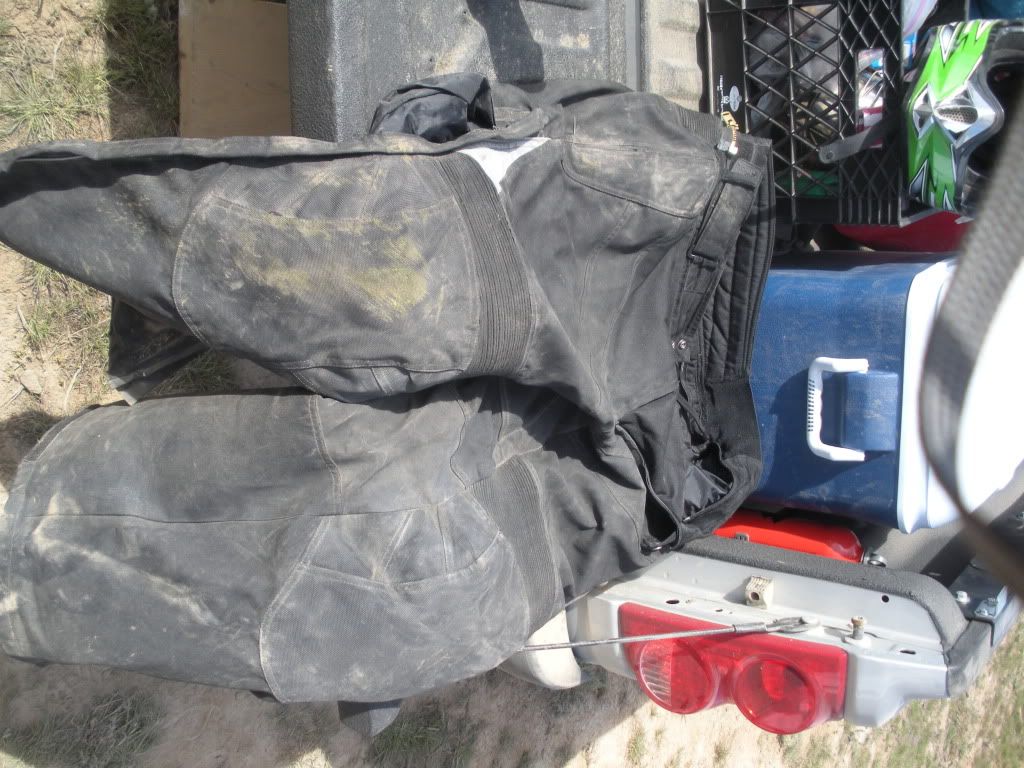 So, back down to the main area to get the shirt and punch...long line...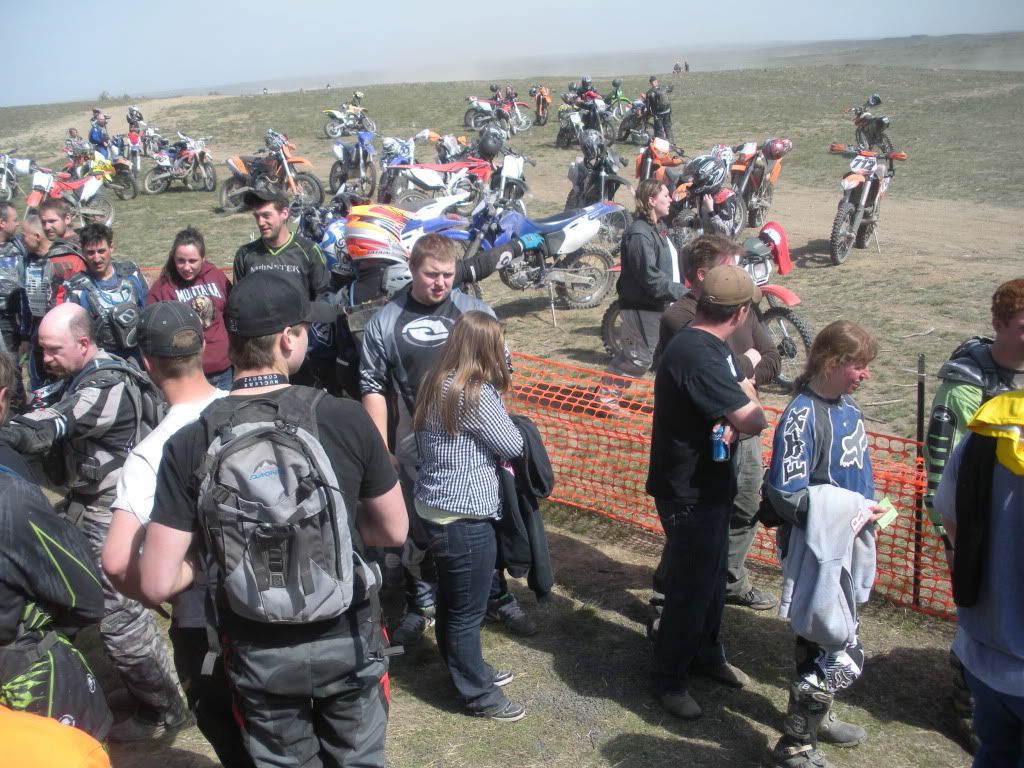 and I got the shirt!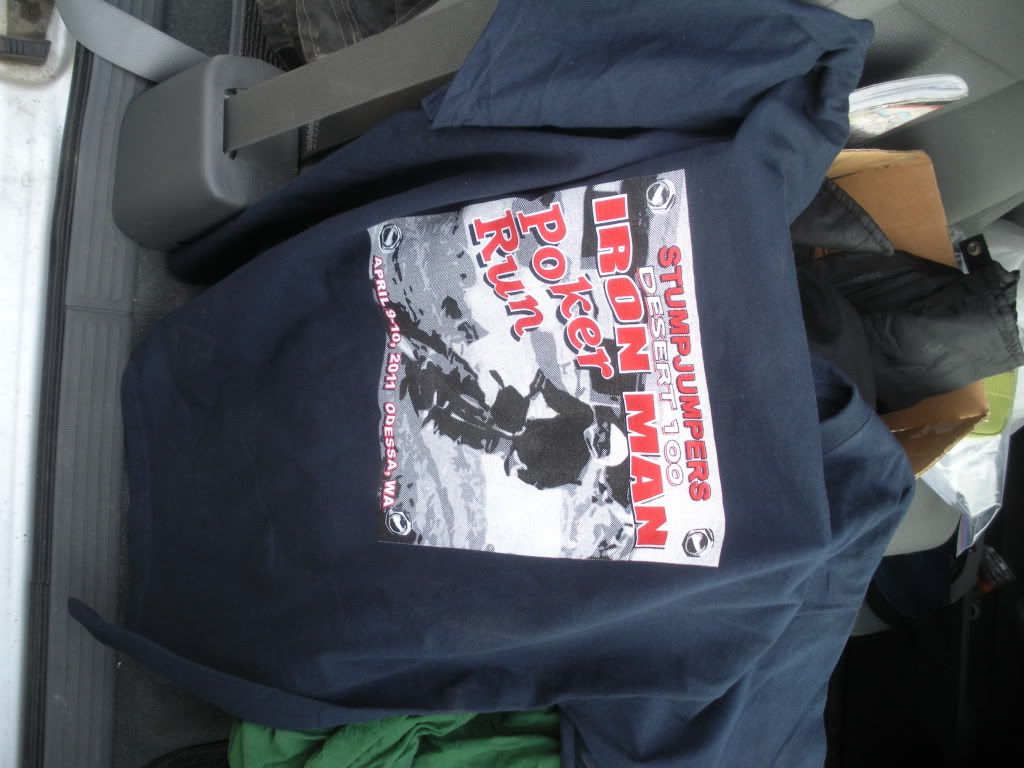 my hand was a pair of 5's, so not really worth pursuing
So, off to watch the little kids race. Man, what a trip. Those little kids were of all sizes and out there for BLOOD. Absolutely insane. Highly recommended.
night time, time to chill!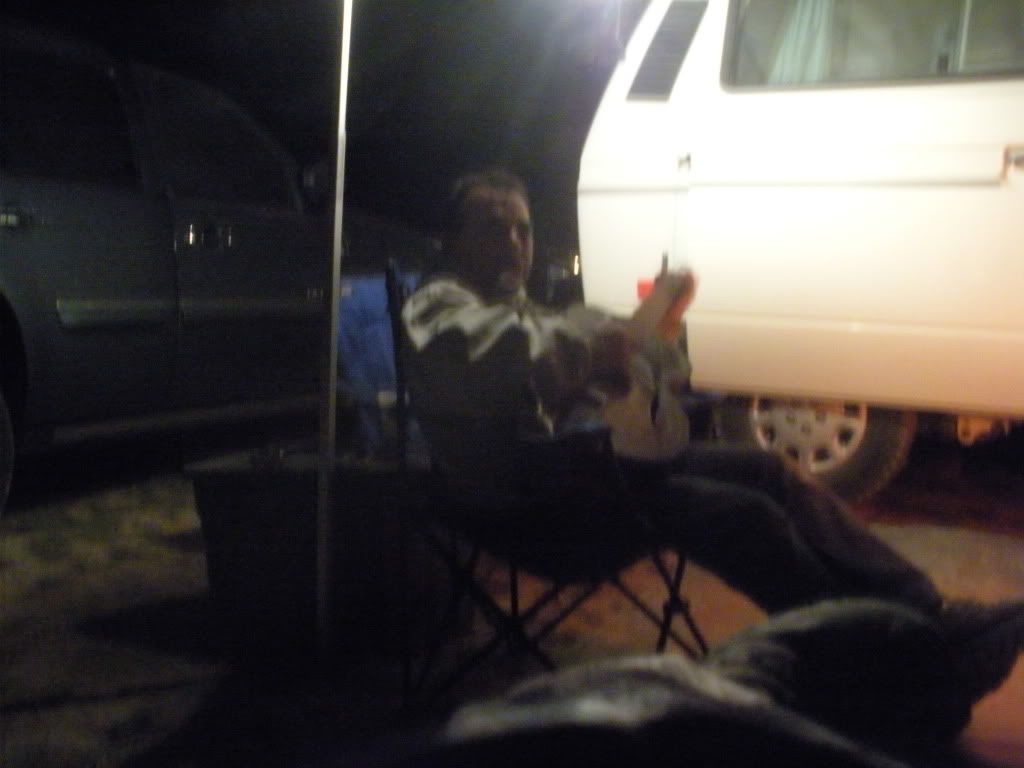 early to bed. we were all tired. camp was quiet early.
up again to watch the race!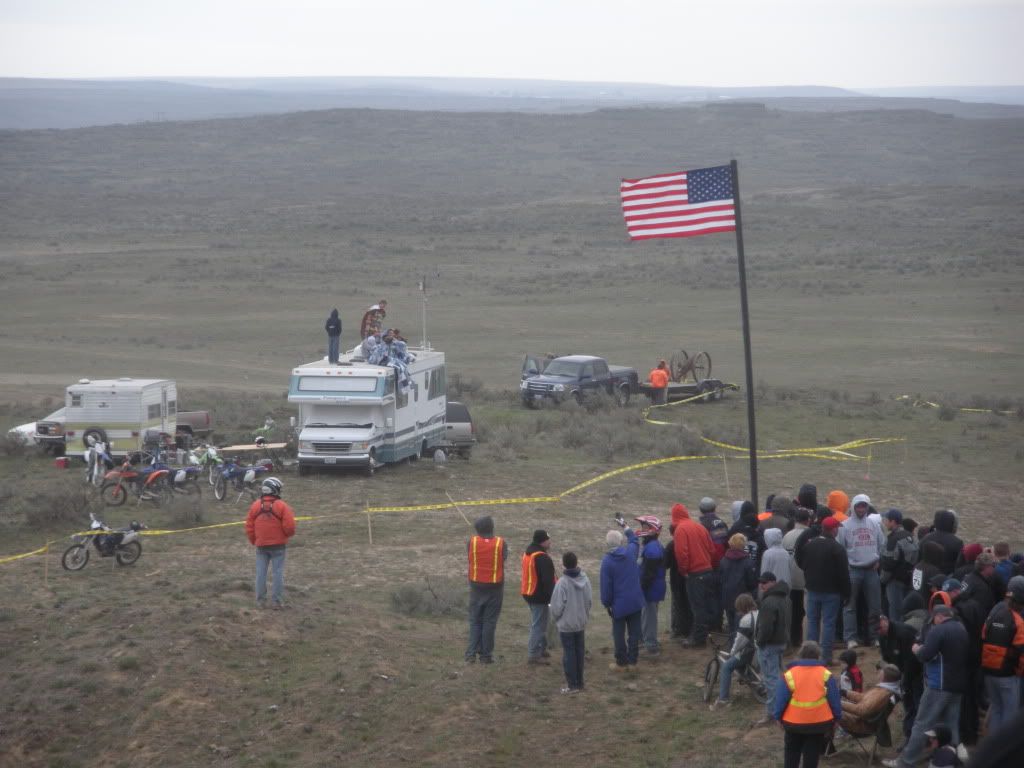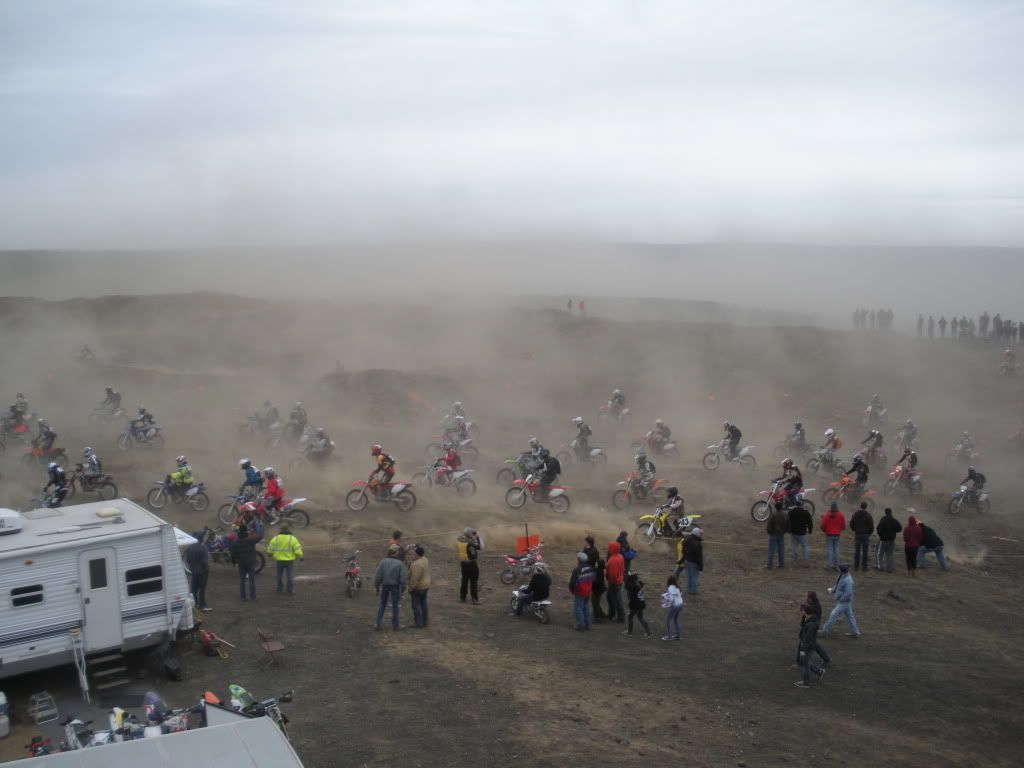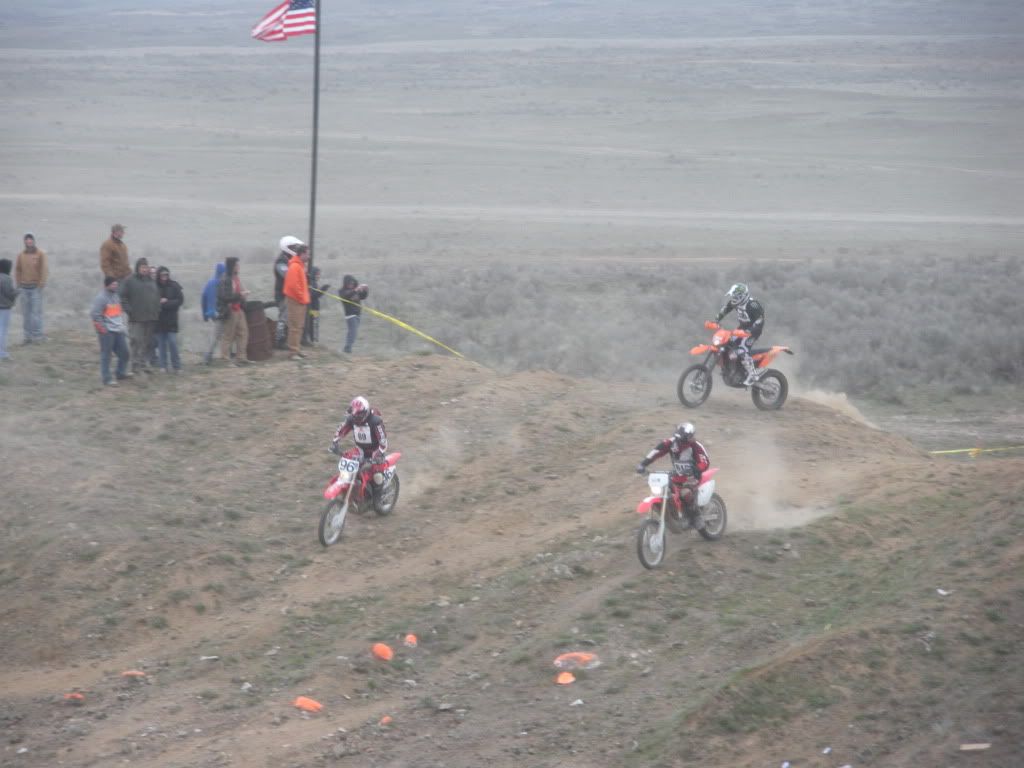 this was not good, but is a reality of these events
back to camp to pack up and head home.
whoa.
I'll be back Odessa. You can bet on that.
Time of my life.
I'm sore. I'm tired.
more pics here:
http://s1192.photobucket.com/albums/...100/?start=all
my spot tracker foot prints!
http://www.spotadventures.com/trip/view/?trip_id=248955
Comments