$24 (including delivery) on eBay
Since I don't use my motorcycle for commuting (yet), don't otherwise purposely ride when rain is forecast, and didn't want to forgo the protection of my current boots (Sidi ST), I decided to look for rain covers that could be packed fairly small for unexpected downpours.
The type that looks like plastic bags seemed like they might not be very stable since there's not much keeping the sole from slipping away from whatever footwear is underneath them. Then I came across the rubber First Gear variety, but read a review saying they were very thin, and since the neck looked narrow compared to the length of the boot, I was worried they would be difficult to get in and out of and easily tear in the process. When I asked a seller about the circumference of the boot opening, he said they weren't given that information from the vendor.
Luckily, I stumbled upon Tingley, which is not strictly advertised as a motorcycle boot rain cover. They make both a rubber (1400) and a PVC variety (called the WorkBrute) in a 10" height that look very similar, but the rubber is not supposed to crack as readily as PVC. Also, from the pictures I saw, the PVC model looks like it has a completely flat sole, where the rubber model has a small heel, which is very useful for keeping the rain cover in place if the boots worn under it have a heel like my Sidis do.
According to Tingley's size chart, I should have ordered a small, but I read a review suggesting ordering a size larger, so to go over my size 37 Sidi ST boots I ordered Tingley's size medium. Neither putting them on nor taking them off was difficult with this larger size. I can't say if the smalls would have fit better, but medium is not too bad. There is about an inch of extra boot in front of my toes, but they don't flop around or feel like they will shake off. In fact, they are so snug at the neck around my wide Sidis that there's no way the button will ever be able to be fastened, nor does it seem it would need to be. They cover almost the entire height of the Sidi neck, leaving only about an inch visible at the top in some places. Since I'd be wearing rain pants covering them anyway, it's not an issue. I haven't worn them riding yet, so I can't comment on how stable they feel stopping on a wet road.
Came across this review of another type of rubber boots that are slightly more expensive:
http://www.webbikeworld.com/motorcyc...ds-rain-boots/
Tingley buttoned shut:
Tingley unbuttoned: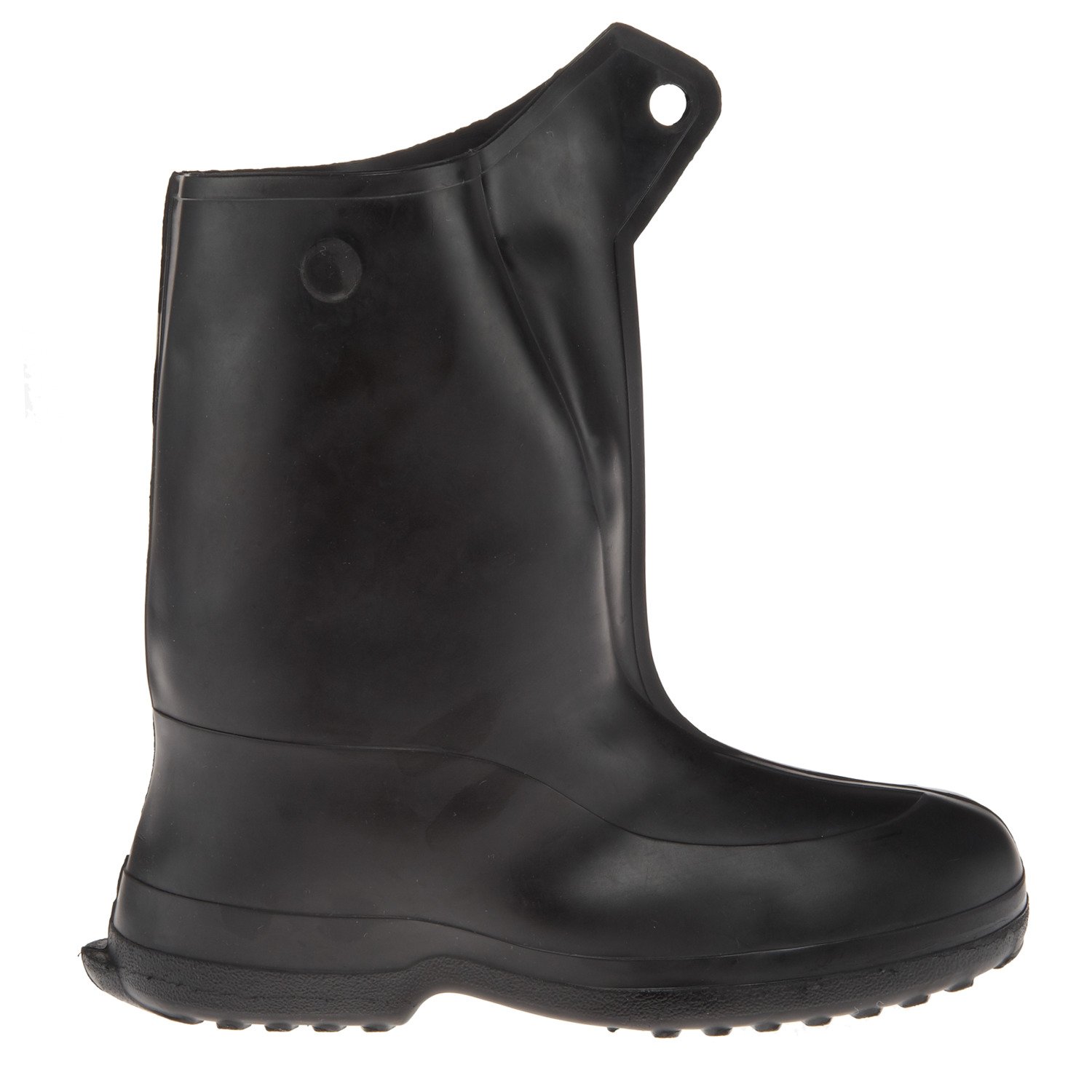 First Gear:
Nelson Rigg: